It occurred to him, not much after the fact, that he could still just drink the poison. A few blue robes still stood around him, waiting patiently for the cool liquid to begin to burn. Most of the room was kneeling, though, and coughing up a pink froth that specked their crisp, white, Adidas tennis sneakers. A few had expired.
Around the room the adage held, the one that goes something like you'll worry less about what people think of you when you realize how infrequently they do. Everyone around him was somewhat too preoccupied with their own demise to notice that his cup still brimmed with the chalky purple liquid and that he had no trouble breathing.
He admitted to himself that he was moved by the toast. "We're the vanguard of the Rapture!" Gene preached. ""The brave few who have looked beyond ourselves to see a cruel and twisted world, where evil men trod unscathed across the unborn skulls of the righteous!" It was a bit dramatic, perhaps, but then of course it was a suicide pact. The host could be forgiven his attention to aesthetics.
The darkness came at 11:24, or it was supposed to, and at any rate by 11:26 on Gene's watch the last sliver of sunlight was snuffed out and the windows went finally dark. It seemed odd, to him, that they should be inside of doors for a cosmically catalyzed death accord; he would have liked to have seen the Coriolis and feel the sudden cool stillness sweep across their Nebraska compound and hear the birds go silent and the crickets stop and stand awed beneath improbable daytime constellations, but nonetheless at 11:26 when the darkness finally came, all manners of slurping and gulping were followed by the hollow tapping of empty styrofoam cups striking the cracked linoleum floor.
Then, for a moment, it was quiet.
The wailing and breast beating began shortly thereafter as the true believers prepared themselves for ascendancy and no more than two or three reluctant saints induced vomiting in a last minute change of heart.
In school, as the tide of hormones swelled to consume the children there, he had seen every effort to fit in and be a part of the main. He recalled that that desperate brand of tribalism carried on past schoolyard taunts and became a fixture in the cul-du-sac. The glistening rows of leased SUVs surrounding the shabby doublewide trailer were testament to that. And he was not immune. Even in that room he felt the frantic affection of the commune, though it still struck him as queer that a person would drink a cocktail of sodium pentathol, potassium cyanide, and grape soda just to join a club.
Totality is fleeting, at their latitude it lasted a mere minute and thirty-four seconds. They had weighed themselves that morning and mixed their pungent potions to act on each of them in 80 seconds, to allow for a moment to swallow and depart together through the darkness. They had fasted since lunch the day before, and as he looked around the room it seemed that Gene's math was more or less correct. No one else was standing; a very few still gasped for air amid the folding chairs and littered cups when the far side of the sun peaked out again from behind the moon.
He missed it, he supposed. His friends had left without him. For a moment he thought that if he tried that he could still catch up, a straggler toward a new frontier. But he hadn't eaten since yesterday and his stomach growled. The small disposable coffee cup suddenly felt very heavy in his hand.
He set his cup carefully on the folding card table in the center of the room, walked to the door through a maze of stilling bodies, and stepped out into the midday dawn.
Next Post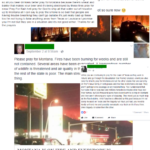 As I write this, on Monday morning, the air quality in Missoula is bad. Hazardous, actually. The most recent measurement of air pollution registered 451 µg/m3 of ... Read more
Like